ISF@De Anza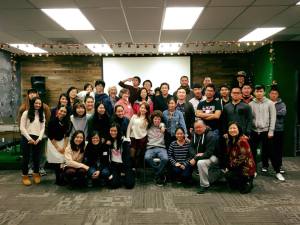 A Place to Make New Friends!
Leave the Cooking to Us!
Live Music!
Thursday meeting (Open to All):
5:45 pm: Open! Open!
5:45 pm – 7 pm: Making new friends, foosball, table tennis, hanging out
7 pm – 9 pm: Dinner (who doesn't love free food!), group game, program (live music, guest speakers, table discussions)
9:30 pm: Doors close (we'll give you a ride home)
** We meet every Thursday at the Valley Church Student Center (building 6)
(10885 North Stelling Road  Cupertino, CA 95014).
We welcome ALL international students, from every nation, every culture, every faith. Come and be part of our community!
We have welcome dinners for new students, and have fun outings to beautiful and exciting places in California.
Join us on Facebook! Search ISF@De Anza, to learn about our outings and events.
To find out more about ISF, contact:
Terry Yu (terryyu7@gmail.com)
Fun fact: Has an international family — her sister lives in Japan, one brother lives in China, one brother lives in Taiwan. Her family loves to travel!
Norm Jang (njang2001@gmail.com)
Fun Fact: In 2009 Norm participated in a Flash Mob at Stanford Shopping Center!